Kevin Hart has stepped down from hosting the Oscars because a few "homophobic" tweets were uncovered from his past. Of course, the rabid media took these tweets used these tweets as a political cudgel – to catch him in a "gotcha" moment. And in the end, Kevin Hart was forced to sacrifice himself atop the altar of political correctness and offer an needless apology.
But along with his apology, Kevin Hard also said this:
"I wouldn't tell the joke today, because when I said it, the times weren't as sensitive as they are now. I think we love to make big deals out of things that aren't necessarily big deals, because we can. These things become public spectacles. So why set yourself up for failure?"

-Kevin Hart
Now, this is interesting, because instead of doing the "Hollywood thing" and condemning his past jokes as outright evil or wrong – he does the more dangerous thing and takes a jab at political correctness – and the circus of a culture it creates.
According to Hart, making these "homophobic" or "sexist" jokes aren't bad ideas because they shouldn't be told. They should absolutely be told. He's saying that the country has become so hypersensitive that it is in a comedian's best interest not to do comedy. We've reached a state where the very act of a comedian doing his job can instantly end his career.
The crazy far left witch hunters are always ready to deliver the maximum punishment for stepping out of line. First, they want your apology. Then they want you fired. Then they want you de-platformed. They don't stop until you are rotting – homeless on the side of the road…over a tweet.
But why do leftists hate comedy so much?
I think it has a lot to do with the coddle culture epidemic. You see this running rampant on college campuses, and it's slowly creeping its way into workplaces and even public spaces. The idea of safe spaces and sanitized language. The idea that someone else's feelings are more important than your ability to exercise your freedom. And we likely see elements of coddle culture every day – often without realizing it.
How many times have you seen someone go out of their way to avoid any sense of confrontation? From just accepting an insult or letting someone cut in line or letting someone outright steal your idea. How many times have you accepted someone's destructive behavior or tolerated someone putting you down – just because, despite them being clearly in the wrong, you still held their feelings and emotional state over own?
Political Correctness has elevated this mindset to dangerous levels. Now, Political Correctness has been given the power of the media. Together – they can make the whole world hate you in less than a minute. You can walk into a bar, have a cold beer with a friend, and have your career end by the time you close out your tab. We live in a state of perpetual outrage…and Political Correctness has made us so sensitive as a society that we begin to hate people over nothing at all.
Political Correctness has made people so crazy that insults and silly little jokes, in many cases, can draw in more hate than murderers and rapists. PC culture has made the number one social offense offending people, and that's why Leftists hate comedy so much.
Have you noticed that so many feminists and left-wing ideologues who call themselves comedians aren't funny (especially the feminists – just being angry all the time does not a comedian make). These types of comedians today walk out on stage and deliver speeches about how Trump is bad…instead of actual jokes – because actual jokes require one major ingredient that they can no longer use: suffering.
The real secret to Political Correctness is not really the want to appease people or to make the world safer. The underlying cause of the vicious popularity of Political Correctness is the fear of suffering pushed to an extreme extent. This is why college-aged kids have gone from storming the beaches of Normandy to crying over Halloween costumes. This is why you get cartoon reboots with all the dark elements removed. This is how you get She-Ra going from a woman to a kid-thing because it perfectly fulfills the modern American's fantasy of remaining forever infantilized – the days where they didn't have to be adults. Where they didn't have to suffer – at least not without a flurry of mommy kisses to make it all better. This is why you have people demanding socialism and crying about free stuff is a human right. It's in this environment that we developed a zero tolerance policy of any type of criticism unless it's a criticism of someone of gives offense or promises to halt this need for a universal safe space.
Comedy is essential to humanity. It helps us cope with terrible things. It can even make things we once viewed as scary to actually be laughable. But leftists hate it, because in order for a joke to be funny – someone must suffer. Why do you think the icon of the theater is this: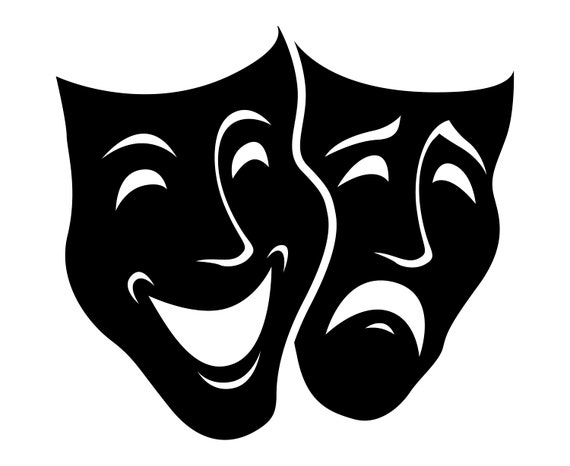 A happy mask and a sad mask – because both remain the foundation of any story regardless of genre. Try to recall the funniest joke or story you've heard. One that actually makes you laugh out loud. There's always someone suffering in the joke. From something a simple as a guy getting kicked in the balls to a complex satire of the Arthurian Legend – every instance meant to make you laugh involves suffering. In stand-up comedy, very often jokes revolve around poking fun at people or groups of people – especially if they take themselves too seriously.
Jokes about race, about being fat, about being gay, about being stupid or a man or woman are funny because they offend people. A lot of humor comes from us laughing at the outrage brought on by these people who take themselves so seriously and how idiotic their attitudes can really be.
Comedy is made to be offensive. Comedy should be free to poke fun at anyone from Islam to transgender because sometimes they deserve a good mocking just like everyone else. I mean – that' what equality is right? No special treatment.
Kevin Hart did nothing wrong…